TimeTrax ERP Software is designed around a single, defined data structure that typically has a common database. This helps ensure that the information used across the enterprise is normalized and based on common definitions and user experiences for small size and large size businesses.
We provide the best Enterprise Resource Planning Software in Pakistan, consisting of accounting and finance modules in the ERP Software, to ensure effective enterprise resource planning. Having vast experience in ERP implementation and ERP consultancy services, Timetrax is an On-Premise and On-Cloud ERP application.
ERP solution providers in Karachi, Lahore, Islamabad, Multan, Faisalabad, Sialkot, Sukkur, Hyderabad, Peshawar, Quetta, and other prominent cities, covering wide range of industries like Pharmaceutical, Food, and Beverage, Retail, Logistics, Education, and Health, up to 35+ other industries.
Enterprise Resource Planning Software Benefits and Features:
Following are the features of enterprise resource planning solutions that ensure productivity and efficiency,
Create income summaries, balance sheets, and cash flow statements a breeze with a built-in financial report writer.
Integrates seamlessly.
Provides records of data range options for accounting periods and asset categories.
Variance Reporting.
Easy process of applying and approving advance requests.
Items, employees & chart of accounts setups can be created.
Automated 3-way match including goods, receipts, invoice, and purchase order
Planning based on customer-wise production advice and sales forecast.
High Resources utilization, Production plan with optimum utilization of all available resources.
Complete business process flow is created through purchasing, receiving, and accounts payable.
What are the modules in the Enterprise Resource Planning Software of TimeTrax?
TimeTrax has core Enterprise Resource Planning Modules for small and large scale businesses, here is the list of ERP modules.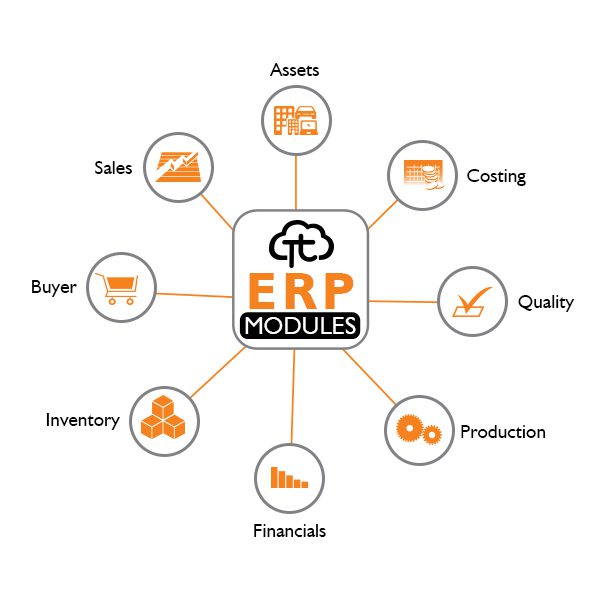 Enterprise Resource Planning Software Modules:
Financial Management System
Optimize your business profitability, measure cash flow, determine tax obligations, ensure compliance, and maintain long-term enterprise sustainability with the Financial management module read more…
Cost Management System
Cost management enables automated cost estimation, budgeting, cost allocation, real-time cost tracking, and variance analysis at the company, department, and project level read more…
Cash Management System
To forecast, track, and report corporate cash flows. The solution is especially helpful to manage cash flows (including in various currencies) across multiple business branches and complex bank account structures read more…
Procurement Management System
Procurement management is much more than a functional area of a business that buys inventory. Procurement management is a strategic function within an organization. From sourcing quality products to purchase order management and controlling costs, making sure the correct quantities of inventory are available to be sold to customers read more…
Production Management System
Involves planning, organizing, directing, and controlling all activities of production. The software combines the six main elements i.e. money, men, materials, machines, markets, and methods in order to fulfill the different needs of people read more…
Inventory Management System
Process of ensuring that adequate stock levels are maintained to avoid interruptions in a business's day-to-day operations. Businesses manage their inventory around the clock as they purchase new products and ship orders to customers read more…
Fixed Assets Management System
Allow users to easily manage fixed assets, with end-to-end visibility into the management process, from acquisition until disposition. Track asset movements across your enterprise and make sure compliance through periodical audits read more…
Quality Control Management System
Formalized system that documents processes, procedures, and responsibilities for achieving quality policies and objectives read more…
Why use TimeTrax System?
TimeTrax has been delivering Quality Software for over 25 years and covering ERP, CRM, and HRMS Software domain of Pakistan, generating 20,000+ invoices each day and 25,000+ vendors issued Purchase Orders each month. TimeTrax Software is an award-winning product, which is proudly made in Pakistan and available all globally.
Client Feeback

Follow these steps to save time, stay focused and choose the Best ERP Software that perfectly suits your needs.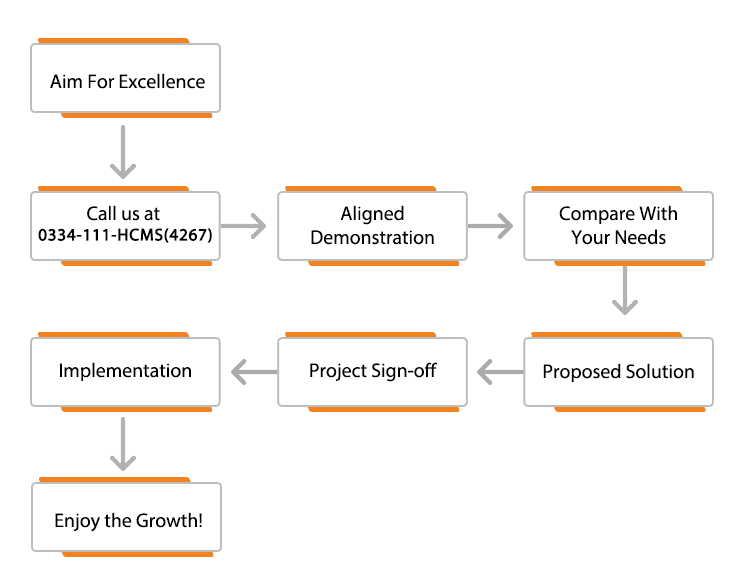 Now sit back, relax and enjoy your progress, with TimeTrax ERP Software!