What is HRMS (Human Resource Management System)?
Human resources software automates and optimizes operations, allowing organizations to manage and engage staff more effectively, enhance productivity, and ultimately raise the bottom line. HRM Software allows your small or large organization to save a significant amount of time that would otherwise be spent switching between systems, double-checking spreadsheets, and ensuring manual entry is accurate.
How beneficial is HRM Software for small and large businesses?
Automated HRM Software Processes
Remote access and employee self-service
Effective HR management, including Recruitment, Leave, Attendance, and Payroll Software
Protection against fraud
Eliminating human error
How to find your business the best HR Software in Pakistan?
Below are the points to consider when looking out for HR Software in Pakistan or in the MENA region.
Understand the basics of HRM Software
Identify your unique needs
Compare different options
Talk to the company and assess them as a whole
Which is the top HR Software in Pakistan?
EfroTech, founded in 1997, was founded on a single concept — Innovation! Our enthusiastic team of 60+ Human Capital, Supply Chain, and Big Data Consultants specializes in providing its award-winning ERP, CRM, and HCM software in Pakistan – TimeTrax – On-Premise and On-Cloud delivery methods, having pioneered Cloud-based HR software in Pakistan in 2005.
TimeTrax HR Software Pakistan provides an automated and computerized HCM, ERP, and CRM system, with 25 years of expertise in the field of Business Process Innovation & Automation, and 34 Super-Modules to properly meet your business needs.
What are the functions and features of TimeTrax, the best HR Software?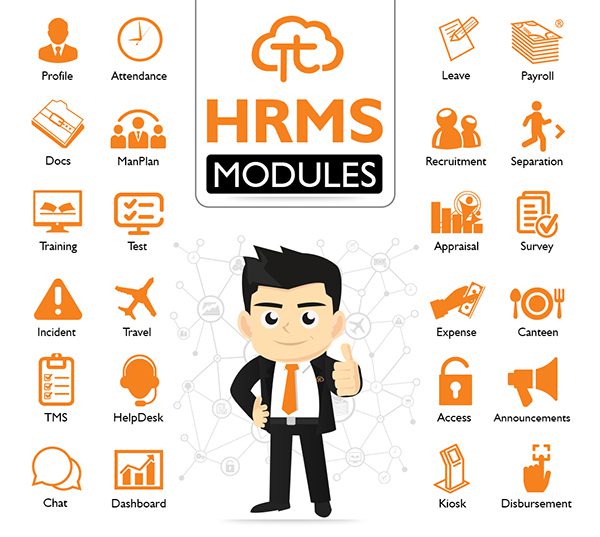 HR Personnel Software's job in recruiting and developing people is to detect the gap between the company's internal capabilities and the desired values of employees, working as consultants and policy writers to provide equitable chances for personnel.
The purpose of HR Leave Software is to manage employee leave requests. The ultimate purpose of this is to guarantee that employees may make use of their leave benefits without interfering with the operation of the firm.
HR Document software is the use of a computer system and software to store, manage and track electronic documents and electronic images of paper-based information captured through the use of a document scanner.
HR Recruitment systems enable employers to track every stage of the hiring process — from initial posting through employee on-boarding. Using a platform to organize all the candidates applying for jobs allows for easy tracking and sorting of every applicant.
An HR training system is a software solution designed specifically for training teams. The HRM Software is used by both external and internal training teams to streamline processes, get everything in one place, reduce cost, aid compliance and help to grow operations.
An HR appraisal system helps employers with the decision-making process involved in employee promotion and compensation, or perhaps in an unfortunate situation, termination. A performance appraisal system falls under the umbrella of performance management software and these platforms are typically used in conjunction with HR Payroll software etc.
HR Attendance Software monitors your employee's working hours. It is the system you use to archive your employees' time and the time they take off. HR Attendance software should be possible by recording employees' hours on paper, utilizing bookkeeping pages, punching time cards, or using web attendance management for your organization.
HR Payroll software is an important document that is used by organizations and companies to perform day-to-day staff management activities containing a list of all the employees of a company and a summary of the entire salary paid to staff within a specific time, using data from HR Attendance software.
HR Manpower planning basically deals with coordinating, motivating, and controlling the various activities within the organization.
HR Separation Management refers to the process of managing the end of the employment cycle. Employee Separation is the process of ensuring that an employee who quits the company is exited in a structured and orderly manner.
HR Online tests are used by employers at various points during the selection process. Some will use them at an early stage to select candidates for interview, others will test later as part of an assessment center activity, in which case test results will be viewed alongside other information gathered.
A robust employee HR survey module that provides hands-on information, and accurate employee insights into attitude changes and engagement activities.
An incident management process is a set of procedures and actions taken to respond to and resolve critical incidents: how incidents are detected and communicated, who is responsible, what tools are used, and what steps are taken to resolve the incident.
Expense management refers to the systems deployed by a business to process, pay, and audit employee-initiated expenses. These costs include but are not limited to, expenses incurred for travel and entertainment.
Task management is defined as the process of handling the entire life-cycle of a task, right from planning to tracking to execution. It helps teams track tasks from the beginning, setting deadlines, prioritizing tasks, and assigning them to the right people. It ensures projects stay on track and get completed on time.
Access control management is an important component of effectively managing the flow of people and restricting access where there is a need. Gone are the days when locking a door or putting up a temporary barrier are sufficient forms of access control.
Self-service kiosks offer a cost-effective and productive solution. They are accurate and efficient, reducing the chance of human transactional errors. They allow in-store staff to concentrate on customers. They are easy to install and manage. Customer messages are always relevant and up-to-date.
Travel management is a specialism, which is based around organizing corporate travel, tracking your various travel expenses, and devising a comprehensive travel strategy. As a discipline, it is intended to help businesses and their employees to optimize the way they deal with their travel needs.
HR Canteen Software is an automated software that enables all the activities of the canteen and maintains a detailed account of food served at the canteen. It allows secure and speedy transactions. It helps management to handle the users by reducing the waiting time for the customers.
A Help-desk or service desk is a one-stop point of contact that provides centralized information and support management service to handle a company's internal or external queries. A help-desk software solution enables companies to resolve customer grievances faster and efficiently by simply automating the complaint resolution process.
The Manage Announcements page allows administrators to add, edit, or remove announcements that can be directed toward a specific group of employees or the entire organization.
Streamline and secure cash salary disbursement process in large, labor-oriented organizations using bio-metric verification that eliminates duplicate/wrong disbursements.
With a built-in messaging module, quickly share/discuss your ideas with other employees within the company to enable cross-functional teamwork & superior project management.
Through Interactive HR Dashboards, each user will have visibility & easy accessibility of key information & metrics relating to their individual role & that of their team members & departments.
Why use TimeTrax HRM System?
TimeTrax has been delivering Quality Software for over 25 years and covering ERP, CRM, and HRMS Software domain of Pakistan, serving 1000+ trusted customers including all major cities including Karachi, Lahore, Islamabad, Multan, Gujranwala, Gujrat, Quetta, Peshawar, Sukkar, Faisalabad, etc.
TimeTrax HRM Software operates in a wide range of industries like Pharmaceutical, Food, and Beverage, Retail, Logistics, Education, and Health, up to 35+ other industries.
Follow these steps to save time, stay focused and choose the Best HRMS Software that perfectly suits your needs.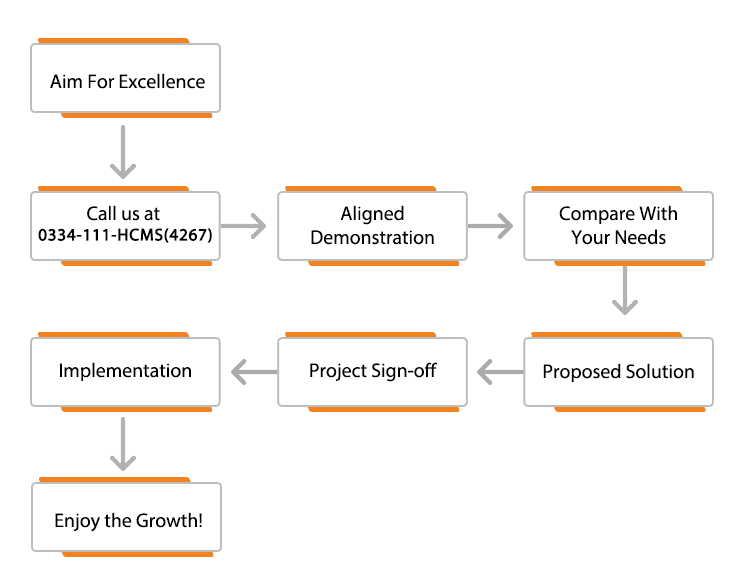 Now sit back, relax and enjoy your progress, with TimeTrax HRMS Software!